If your property has become a toxic environment through meth contamination, decontamination is the only way to fix it. Chemical contamination is forever – and it can have a huge impact on the health of you or your tenants.
If you suspect that there has been some Methamphetamine use in the property, the most cost effective way to find out is to have a few general samples taken and tested. The two options are as follows: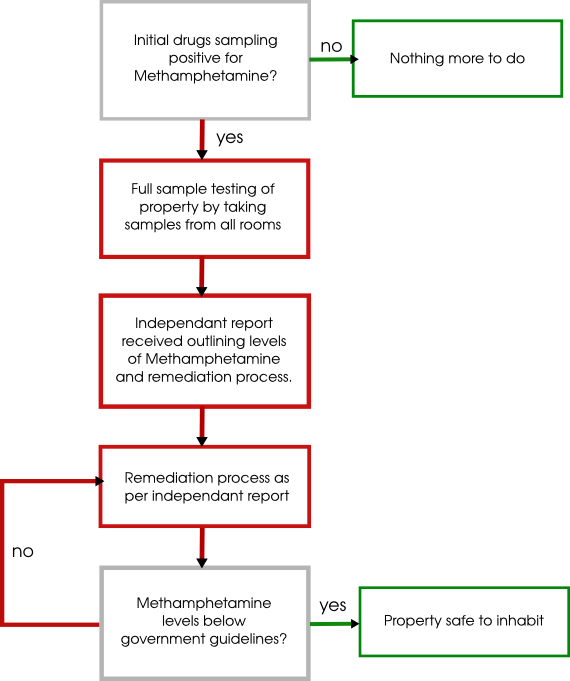 Basic Screening Test - These samples ( 3 x separate samples ) will give a Yes/No reading highlighting if there has been any Methamphetamine use but will not give the precise levels required to provide a remediation report. If the sample reads "Yes", that confirms that the level is above the recommended Government level for Methamphetamine. Larger properties may require more samples.
Initial Screening Test – These samples will provide levels of Methamphetamine use ( if detected ) but will not be comprehensive enough to provide for a remediation report.
If the initial screening test samples come back negative everything is ok and there's nothing further to do.
Basic/Initial screening test samples come back as positive. The recommended next course of action is to have the property fully tested and a report provided indicating levels of Methamphetamine. The report identifies the areas affected and the precise remediation action required to ensure the property can be lived in safely once remediation has been carried out. Cost for taking of the samples, chemical analysis and providing the in-depth report is dependant upon size of property.
Please note the basic screening testing can be carried out by Andy Andersons Industrial Services in conjunction with either the property owner or properrty manager. All other taking, testing and reporting ofthe samples are carried out by independent companies and therefore Andy Andersons Industrial Services has no influence whatsoever regarding any of the results and recommendations provided.
Remediation process. Depending upon what the report discovers, Andy Andersons Industrial Services (AAIS) only follows what is recommended and does not venture away from these recommendations unless otherwise requested to do so by the property owner. Cost for remediation varies depending upon what the report recommends and estimates will be provided on a job by job basis.
Re-testing of the property. Once remediation has finished fresh samples must be taken and analysed to ensure the Methamphetamine levels are within Governmental guidelines. Cost depending upon size of property
All samples taken are tested and found to be within Governmental guidelines. The property is then deemed fit for habitation again and a certificate of remediation will be issued at this time.
Should any area still show Methamphetamine levels above Governmental guidelines, fresh remediation to be carried out as directed by the independent testing agency. Cost for this is on top of the original estimate and will vary on a job per job basis
After more remediation is completed, further samples to be taken and analysed. Cost for this will depend upon the number of samples required to ensure full remediation of the property.
All samples taken are tested and found to be within Governmental guidelines. The property is then deemed fit for habitation again and a certificate of remediation will be issued.
Decontamination is dangerous, difficult and dirty work – get it done right with the Andy Andersons team.
Need our help?
If you've got a job that is dirty, difficult or dangerous then it's time to get experienced help from our friendly team. Talk to us today for a no-obligation chat about your job.
Get in touch with us today
(09) 579 2639
Andy Andersons Industrial Services
PO Box 83 219
Edmonton
Auckland 0652